TheLounge – A Web & Mobile, Always Connected, IRC Client!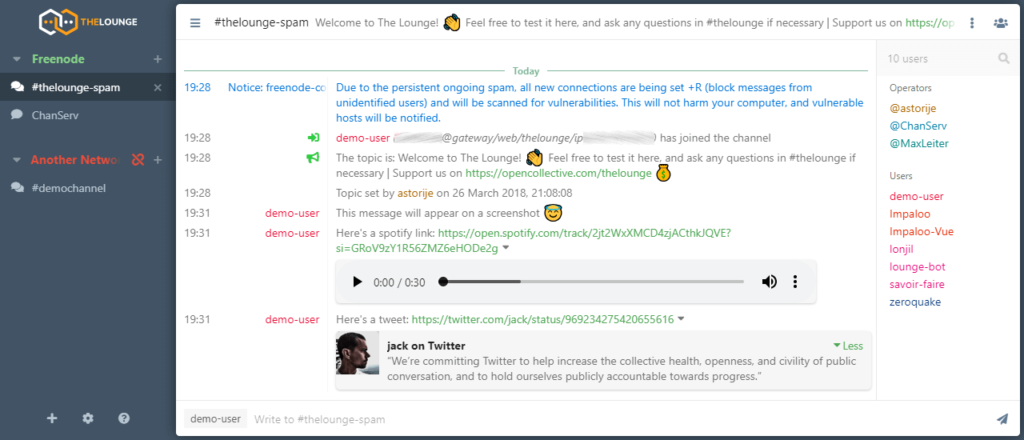 Click Here to Sign In -or-

Get a FREE Account
Features
 Modern features

Search Feature, Push notifications*, link previews, file uploads, and more bring IRC to the 21st century.  (*Push notifications unavailable on iOS)

 Always connected

Remain connected to IRC servers while you are offline. Forget about bouncers. Resume where you left off on any device.

 Responsive interface

The client works smoothly on every desktop, smartphone and tablet.

 Themes

Chose your preferred theme (of 15+) to use on (each) devices.

 FREE

Our service is FREE – you only need to have (and maintain) your IRC4Fun account on NickServ.

 Multi-Network

Connect to IRC4Fun as well as your other favorite IRC networks!
Recent News
December 16, 2021
We're excited to announce the arrival of 6 new themes for TheLounge users!
For assistance with TheLounge, or these new features; please join #TheLounge.
November 23, 2021
TheLounge 4.3.0 was released with many additions, changes, fixes and IRC4Fun's TheLounge server has been upgraded to the latest version.  This version also provides an exciting new feature, one highly sought after in many web-based clients: SEARCH
Users can now utilize the SEARCH

feature to search through your channels and messages for specific lines or phrases.  (The context or conversations around the matching search results is not yet available — but is being worked in, in the future!)
For a complete list of changes, please see TheLounge.chat's changelog.
For assistance with TheLounge, or these new features; please join #TheLounge.
Requirements / How to get an account
 Must be registered with IRC4Fun (and logged into NickServ)
 Must have a valid email address associated with your NickServ Account.
To get an account:
/JOIN #TheLounge and ask for one — wait patiently for a response from siniStar.
 Email thelounge.staff @ IRC4Fun.net from the email address associated with your NickServ account, using the subject "TheLounge Account Request".  Include in the message body your NickServ username, your desired TheLounge Account password and confirm that you agree to both the Terms of Use and Privacy Policy.
Already have an Account?
---
Contact Staff: TheLounge.staff @ IRC4Fun.net  or  #TheLounge | Report Abuse | Terms of Use | Privacy Policy | Networks