Introduction
IRC4Fun is an Internet Relay Chat network, founded in October of 2007. Our goal is to provide a quality, free, & fun chat service giving people all over the world a means for conversing with each other on friendly, secure and drama-free servers. 

 Connecting
You can use your preferred IRC Client to connect to IRC4Fun, or you can use our web chat. (which does not require any installations)
We highly recommend connecting to irc.IRC4Fun.net using SSL

for enhanced security, which is available on port 6697.
However, plaintext (non-SSL) connections can be made on port 6667.

 We also provide an always connected, free, secure & web-based client called The Lounge to our registered users through IRCplus+.

 Compatibility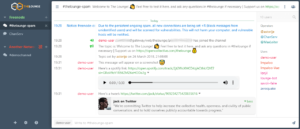 Compatible with
Desktop Browsers as well as Mobile Browsers
Phones & Tablets / iPads: 
Can be installed as a PWA with select browsers!
 Documents, Guides & Knowledge Base

New to IRC or IRC4Fun?  We have resources that will help you get acquainted with IRC4Fun, it's servers, services and more.
 Chat Now
IRC4Fun has a variety of

chat channels available – below are some common channels by category/interest:
(Click on a #ChannelName to open web chat)
[ Click Here for a list of active IRC4Fun Channels & Stats ]