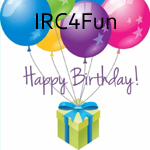 IRC4Fun is excited to celebrate 15 years of operation on October 20th, 2022!  We'll be celebrating in #IRC4Fun and giving out special 15th Celebration cloaks (vhosts) to registered users who ask for them; on Thursday October 20th, 2022.  (Example: JoeBob requests the celebration cloak and would receive one as: users/15-celeb/JoeBob)
We hope to see you there!
You can reach us at irc.IRC4Fun.net on port 6697 (SSL) or port 6667 (Plaintext).